Carpet Cleaning Services In Denver, CO
We Cherish The Ground You Walk On
Floors are our thing. It's what we do, and we're passionate about doing it well. From the lobby entrance to the top-floor C-suites, we work hard to make your floors look good. Top Floor, Any Floor!
With Sky Rise Carpet Cleaning Services, you receive:
an all-natural, eco-friendly cleaning with products that leave no chemical residue
friendly, educated carpet cleaners with powerful, top-of-the-line IICRC Platinum-Rated equipment
a delicate touch, to carefully preserve your carpets and floors for maximum life
Residential Carpet Cleaning
Commercial Carpet Cleaning
Most people spend 90% of their time indoors.
Whether you own an 8-5 commercial building or a residential high-rise, that's a lot of foot traffic on your carpets and tile. Regular floor maintenance will help you:
Extend the life of your investment
Provide clean, healthy, and safe indoor environments
Maintain happy customers, clients, and employees
Our Superior Carpet Cleaning Services
Carpet Cleaning Frequency
Whenever your floors need care and attention – whether it's once a year or every month – we'll be there. We'll work with you to create a custom, flexible service schedule, or you can choose from one of these existing carpet cleaning service programs:
One-Time Full-Restorative Carpet Cleaning
Monthly Scheduled Cleaning
Semi-Annual Deep-Clean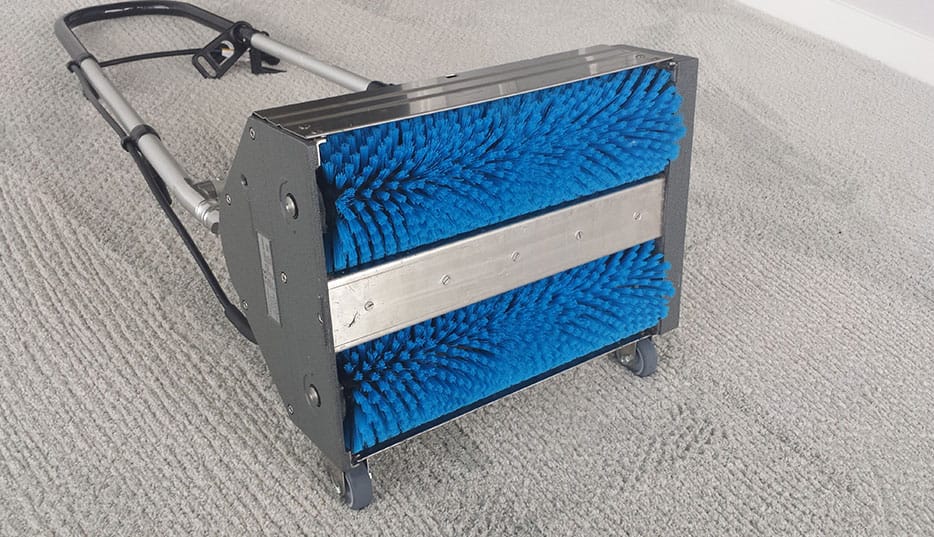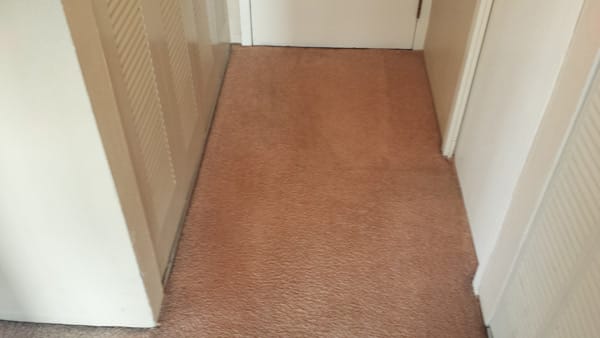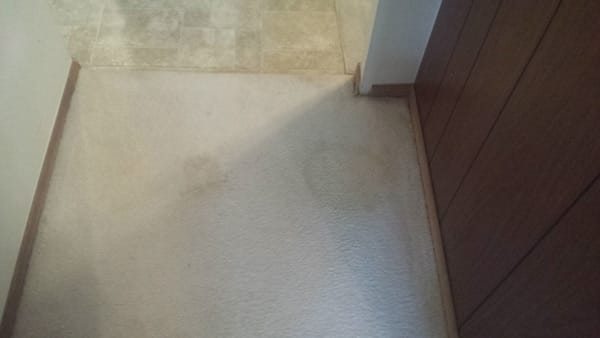 Our Meticulous 5-Step Carpet Cleaning Process
Our 6-step process includes:
Initial consultation: We begin with a comprehensive consultation. We talk about your carpets, any problematic stains, heavy traffic areas, and a few other small details that help us get familiar with your carpet's needs.
Carpet Pre-Treatment: We start our biological decontamination process by pretreating the carpets with our non-toxic, residue-free pretreatment. It immediately goes to work lifting deep stains, and eliminates any miscellaneous odors, including pet odor.
Restorative Carpet Deep-Clean: With our restorative carpet cleaning method, we use a heavy oscillation brush that agitates the pretreatment all the way down to the backing of the carpet fibers. This helps loosen all the dust, debris, dog hair, cat hair, and dirt from the carpet.
Pre-Vacuum: We then use a powerful, commercial-grade vacuum to pick up all that dust, debris, and pet hair, leaving your carpet nicely prepped for the next important step.
Superior Steam Clean: With our Nautilus Extractor Extreme, we then do the superior steam cleaning that your carpet deserves. This step helps preserve the color, appearance, and lifespan of your carpet. It will look brand new after we've completed the steam cleaning.
Carpet Protectant: Once the carpet has been thoroughly cleaned, we then apply the best carpet protectant on the market. This ensures that your carpet will stay clean for much longer and will prevent most future stains from ever happening.
Care & Attention
We take the utmost care with not only your carpet but also your furniture and other belongings. We will happily move your couches, chairs, and tables, although we will not move any large items like beds, dressers, or pianos. We've been in the carpet cleaning business for a long time and we don't cut corners.
Reliability
We show up on time with the expert knowledge to give you an outstanding clean. We've built a reputation as the carpet cleaning company you can trust, and we protect that reputation by delivering on our commitments, every time. We show up to your location at the time we agree upon. We show up eager and prepared to get down to the nitty gritty fibers of your carpets.
No Hidden Fees
Our consultation is thorough and precise, and we put a lot of care into giving you a fair, accurate estimate. Once we do, that's it. There won't be any hidden fees, period. There are occasions when something unexpected turns up, and if that happens, we'll let you know about it right away. You can either approve the extra work or save it for another time. We don't play unfair. We want you as a lifelong customer. That's why we always make sure you have a clear understanding of what we do, how we do it, and what you'll pay.
Satisfaction Guaranteed
Our cleaning process is incredibly meticulous. We don't cut corners. We do the job right. But if a problem occurs – for example, if a spot reappears or if there is a pH imbalance – we can be back out within the week to fix it. We'll even take care of problems caused by other cleaners. For example, sometimes harsh chemicals leave a soap residue in the carpet, or sometimes brown spots can appear after a good carpet cleaning. If this happens, call us. We will take care of it immediately.

"I have 2 offices with thick nylon carpets. I also have 2 boys that are ages 10 and 7, 2 dogs, and 2 cats. I must admit that my carpets have been through some terrible times…
I had a Scentsy wax warmer that was knocked over while powered on and the wax spilled on the carpet, causing there to be a large white wax spot on the carpet. My boys had a goopy slime vending machine toy that hardened and stained the carpet. The dogs and cats have urinated, pooped, and thrown-up on the carpet at some point in time.
Adam lifted the wax from the carpet, got the goopy slime out, and made my carpets look and smell brand-new! He even got rid of the blue stain which I thought was going to be permanent.
Super ecstatic about putting Sky Rise Carpet Cleaning in charge of my carpets.
Thanks Adam!"
Mario Salazar
Englewood, CO
'Adam is extremely knowledgeable and thorough. Great job at a very fair price. I've used Sky Rise Carpet Cleaning twice now and will continue to be a repeat customer."
Rahnuma K
Centennial, CO

"Great responsiveness, knowledgeable, and high quality work. Price was right too. I'll be using Sky Rise for future carpet and furniture cleaning."
Barry Bowles
Centennial, CO

"Adam did an exceptional job getting our carpets clean when other companies couldn't. His service was fast, professional and thorough. Highly recommend!"
Ryan Roberts
Littleton, CO

"It was a nice surprise to have Adam with Sky Rise show up 5 min ahead of schedule and he was very professional and educated in his craft. We live on the 7th floor in Denver and it isn't always easy to find someone who is capable of doing a timely and quality job on our level. Our pet odors are non-existent after the cleaning and the before and after pictures are night and day. We highly recommend to anyone especially if you are above ground level!!"
Micah Baca
Denver, CO

""Adam always answered the telephone during the time before my appointment. He was very flexible when I had to move my appointment up. He arrived on time and did an excellent job. In addition, his pricing is very competitive. I highly recommend him and I will be using him again!"
Kathy Burns
Littleton, CO

"Awesome service. They were very thorough with every aspect of the job. They were happy to explain what equipment and solutions they use, how all of it works, and the actual process of cleaning. They got the ugly pet stains out of my carpet, and the carpet dried surprisingly quick! Great work guys, I am very impressed!"
Cambria Graves
Centennial, CO

"The technician was on time. He was very thorough accessing the pet damage. I thought the smell would never go away. I was embarrassed but he was very respectful and everything looks great I will definitely use them again."
Mike Swierk
Littleton, CO

"I've been working in property management here in Colorado for over 10 years. Working with Sky Rise and more specifically Adam. Has been nothing but a blessing. The professionalism and quality of work I have received has elevated my expectation of standards. If you want the job done right, call Sky Rise."
Chris Mulhern
Littleton, CO

"Excellent equipment, as well as knowledge in his industry. You can tell he's confident in what he's doing, and experienced in his work. Would most definitely recommend."
Amalie Erin
Denver, CO

"Sky Rise came to clean my 5th story condo.  Amazing and very professional company! Couldn't believe how fast my carpet was dry!  The protectant works great! I would definitely recommend this company to any of my neighbors"
Sarah H.
Denver, CO

"I have two dogs and two cats and pet stains happen, but with white carpet, I wasn't sure if I would have to replace it or not. Sky Rise was able to completely remove spots and there wasn't an unpleasant odor after the fact!"
Krista B.
Centennial, CO
Why Is Sky Rise The Best Carpet Cleaning Service?
Carpet Care Plans
Your flooring is our top priority. We are happy to come out several times a year to ensure that your carpets are always clean and well-maintained.
Water-Soluble Carpet Protectant
Our water-soluble carpet protectant creates a barrier that lasts until your next steam clean, repelling most stains and prevents future soiling.
Nontoxic, Residue-Free
All of our products are all-natural and non-toxic. After a full-restorative steam clean, there will be no soap residue left in the carpet. They are safe for children and pets.
No Truck Mount Required
Most carpet cleaning companies require truck-mounted machines to get good water pressure to their equipment. Our top of the line equipment that does not require a truck mount. This gives us the ability to clean the carpets of any floor of any size high rise building.
State Of The Art Equipment
Our Nautilus Extractor is a commercial-grade and incredibly powerful cleaning machine that takes care of your carpet in a delicate fashion. This provides your carpets with a safe yet effective deep-clean.
Pet Stains & Pet Odor Treatment
Pet stains are removed and pet odor is eliminated with our pre-treatment and steam cleaning process. Using non-toxic and pet-friendly pre-treatment, we first pull up all of the odorous compounds in the carpet fibers then we eliminate them.
Upholstery Dries Quickly
When your upholstery gets cleaned, we use a great product that dries quickly and conveniently so that you can relax on your couch, loveseat, sofa, or chairs just a few short hours after we've cleaned them. Usually within 1 to 3 hours.
Tile & Grout High Pressure Steam Cleaned and Sealed
The same equipment we use for a powerful steam clean also blasts dirt, grime, gunk, and other types of build-up on your tile and grout. Portable water pressure and non-toxic products to clean, disinfect, and protect just about any surface.
Area Rugs Cleaned On and Off Site
We remove the deep-down dirt, stains, or odor for nearly any size area rug. Your area rugs can be cleaned either in person or taken off-site to get deep cleaned, pending the size and problem areas.
Schedule Your One-Time Carpet Cleaning or Start Your Carpet Care Plan Today
Getting a quick quote does not require you to submit any of your contact information.
You only submit your contact information if and when you are ready to schedule a call with us.
No pressure.